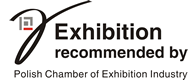 Exhibitors invite to the fair:
16.12.2016
We kindly invite you to visit Poznań International Fair! Here you will find business contacts, novelties and the chance to develop your passions. In the latest issue of Poznan Fair Magazine "Exhibition calendar 2017" we present trade fair events, organized by the International Fair for almost all industries.
07.09.2016
The 15th edition of the EKO-LAS Fair, the largest exhibition in our country presenting the offer of forest machines, equipment and services, which was held on September 1-3, 2016, in Janów Lubelski, is already over.
01.09.2016
To ensure the provision of complete information to the visitors and strengthen awareness of new products, each of the innovative solutions will be labelled 'NEW'. The presence of pioneering ideas awarded the prestigious award – MTP Gold Medal – will also be marked on maps and in information materials.
More news
---

Next edition
JANÓW LUBELSKI (EASTERN POLAND), 1-3.09.2016.
The EKO-LAS Fair of Forestry, Wood Industry and Environmental Protection is the only such a large event dedicated to the forestry sector in Poland, which is entirely organized in woody areas. For years, the EKO-LAS Fair has provided an opportunity to present current trends, technologies and new products. The location of the event in natural conditions enables us to present the practical advantages of machines for cutting, logging and transport of timber. EKO-LAS is a proven brand, appreciated by the forest industry representatives interested in innovative solutions, exchange of knowledge and experience. The advantage of the Fair is the wide range of topics discussed, dedicated to professional visitors and the high professional level of accompanying events co-organized with partners from the forest industry. The impressive character of the event is confirmed by statistics. The last edition of the Fair, organized on the surface area of over 57,000 m2, was attended by over 150 exhibitors. The Fair exhibition was visited by over 7,500 people, joined by common passion for forest management.